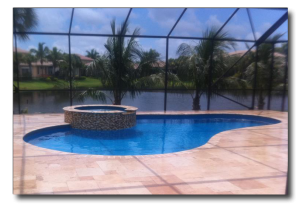 Welcome to Bella Pools.  We are a South Florida-based pool company specializing in outdoor makeovers; we also specialize in water chemistry for safer and healthier swimming pools. Our owners are dedicated to serve each individual homeowner with knowledge and expertise in the business, also giving a firm schedule and completion date.
"Transform Your Backyard Fantasy Into Reality"
We do not subcontract out our work as all of our jobs are done in-house. Bella Pools' approach to each pool remodeling project is the same: provide timely communication with the property owner about the sequence of construction. We take pride in our work and are very confident you will be completely satisfied with our quality and workmanship.
On behalf of all of us at Bella Pools of South Florida, we thank you for considering us for the future renovation of your swimming pool.
---
Tiling • Renovations • Installations • Coping • Licensed and Insured • No Subcontracting!