We specialize in both commercial and residential pool, spa, and deck remodeling.
Pool Remodeling & Resurfacing
Swimming Pool Plaster 
If your swimming pool and spa surface is fading, stained, peeling, or just plain dull, it might be time to consider resurfacing your pool. Replastering your pool is a cost-effective way to give it a fresh new look. Learn more.
BEFORE
AFTER

Tile 
Is your tile out of date, cracked, or even worse, fallen off your swimming pool or spa? It could possibly be the time to replace that old, faded, cracked tile with a new and exciting selection. Keep in mind, there's more to choosing the right pool tile than you think. When remodeling a pool, you should think about what looks good now, and how it will look a few years down the road. Our staff at Bella Pools can help you select a tile that works with the design of your pool, and the overall look of your backyard.
BEFORE

AFTER
Coping
Now that you have decided to replaster your pool and replace old tile, you may be thinking if you should leave the coping as it is or just complete the makeover with new coping. We'll leave that decision up to you, but if  you decide to replace it we welcome the opportunity to discuss your options. Bella Pools can install standard bullnose brick, travertine, concrete coping, and more.
BEFORE
 AFTER
 Pool Equipment
When remodeling your swimming pool and updating the surface material of your pool it is the perfect time to replace your old inefficient pool equipment with more cost efficient equipment. Many of our clients decide to update their equipment to protect their newly applied pool finish. Not only do we install new pumps and filters to fit the needs of your swimming pool, we also offer new heaters, lighting, state of the art salt chlorinators, convenient automated control systems, and much more. In fact, replacing your old inefficient pool equipment will actually save you money over time.
That's not all…
Are you looking for ways to make your existing pool look even better? 
Adding water features such a deck jets, and sheer descents are a great way to add relaxation and beauty to your pool.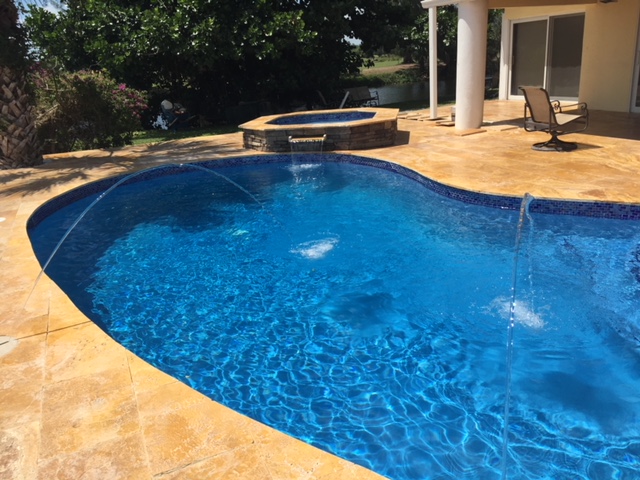 Deck Renovation
Enhance the style and functionality of your outdoor living space by renovating your deck. It's always summer here in South Florida, so why not make the most of your outdoor space.Whether you're looking to upgrade your driveway or swimming pool deck, our professional staff can help create the perfect design plans for you. We love creating and remodeling decks using pavers and travertine because they embody all the attributes we like in an outdoor setting; high durability, endless design possibilities and a beautiful, understated elegance.
BEFORE
AFTER

Pool Maintenance
We specialize in pool service, repairs, and green pool clean-ups and offer comprehensive weekly pool maintenance to keep your pool clean and healthy all year long. 
Swimming pools are meant to be enjoyed. Why ruin it worrying about cleaning, chemicals, and the continued maintenance involved in caring for your pool?
Bella Pools understands far too well that a sparkling blue pool doesn't stay like that by itself, and requires regular maintenance to ensure a safe swimming environment for your family. Our professional staff can provide you with a consistent level of service, knowledge and support for all your swimming pool needs and quality beyond expectations. Need a repair or an acid wash? Our experienced team can help!
We offer affordable pricing for weekly maintenance for both residential and commercial pools.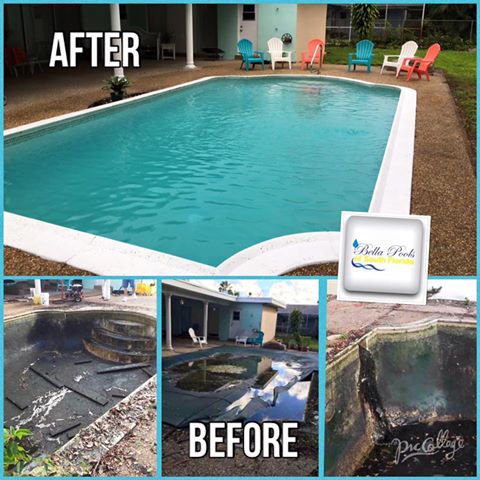 Contact us today to schedule your service!